Warning
: Illegal string offset 'sfsi_plus_post_icons_size' in
/www/htdocs/w00bc1ff/whoviewde/wp-content/plugins/ultimate-social-media-plus/ultimate_social_media_icons.php
on line
288
Warning
: Illegal string offset 'sfsi_plus_display_button_type' in
/www/htdocs/w00bc1ff/whoviewde/wp-content/plugins/ultimate-social-media-plus/ultimate_social_media_icons.php
on line
290
Warning
: Illegal string offset 'sfsi_plus_icons_alignment' in
/www/htdocs/w00bc1ff/whoviewde/wp-content/plugins/ultimate-social-media-plus/ultimate_social_media_icons.php
on line
292
Warning
: Illegal string offset 'sfsi_plus_display_before_posts' in
/www/htdocs/w00bc1ff/whoviewde/wp-content/plugins/ultimate-social-media-plus/ultimate_social_media_icons.php
on line
301
Warning
: Illegal string offset 'sfsi_plus_show_item_onposts' in
/www/htdocs/w00bc1ff/whoviewde/wp-content/plugins/ultimate-social-media-plus/ultimate_social_media_icons.php
on line
315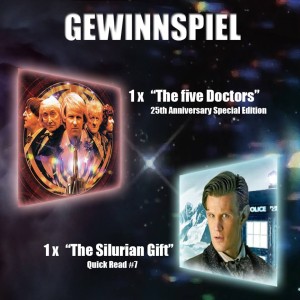 Es ist soweit.
Das Weihnachtsspecial "The Time of the Doctor" liegt nun einen guten Monat hinter uns – und das bedeutet, dass wir bis zum Herbst warten müssen, bis wir die neuen Folgen, mit unserem Lieblings-Time Lord, sehen können.
Selbstverständlich wird der Whoview in dieser Zeit viele weitere Reviews veröffentlichen – aber um euch die Wartezeit ein wenig zu verkürzen, hat sich der Whoview, in Zusammenarbeit mit Doctor Who News Germany entschlossen, ein kleines Gewinnspiel zu starten.
Zu Gewinnen gibt es:
Die 25th Anniversary Edition DVD von "The Five Doktors" und das Quick-Read  "The Silurian Gift".
Was müsst ihr dafür machen? Ganz Einfach!
1.) Geht auf die Facebookseite des Whoviews und klickt auf "Gefällt mir".
2.) Beantwortet folgende Gewinnspielfrage:
Welcher Schauspieler verkörperte den ersten Doktor in "The Five Doktors".
A. William Hartnell 
B. Richard Hurndall 
C. David Bradley
---
Schreibt die richtige Antwort, in einer Email, mit dem Betreff "Gewinnspielteilnahme von [Euer Facebookname", an: 
mail@whoview.doctorwho-deutschland.de 
Unter allen Einsendern, welche zuvor auf der Facebookseite auf "Gefällt mir" geklickt haben, wird dann der Gewinner ausgelost.
Einsendeschluss ist der 15. Februar. Alle Angaben sind ohne Gewähr.
Der Whoview und Doctor Who News Germany wünschen allen Teilnehmern viel Glück.
---